Student debt is serious business. Roughly 44.2 million Americans have some degree of student loan debt, with the average 2016 graduate owing $37,172. As tuition rates continue to rise, students increasingly seek out federal financial aid in the form of scholarships, grants, work-study programs, and loans. Others, however, take a different route in the form of work-based tuition assistance and loan forgiveness programs.
Many companies offer employee benefit packages that assist with educational costs. While policies vary between individual companies, some provide full or partial funding for work-related degree programs. Others offer incentives for employees who seek higher education in any field. In addition to tuition assistance, some employers and volunteer organizations provide graduates with ways to reduce or forgive their student loans. In the following guide, we'll describe what jobs help pay for college, common sources of tuition assistance, and how you can conquer debt after graduation.
44.2 million Americans have some degree of student loan debt, with the average 2016 graduate owing $37,172

Part-Time/Flex-Time Jobs You Can Do While Attending College
Many students would like to find jobs that help pay for college and living expenses, but worry about adding more responsibilities to their busy schedules. Want to earn extra money without sacrificing your studies? Offering part-time hours and flexible schedules, the following jobs are ideal for college students.
Bartender or Server

While job duties tend to vary between positions and establishments, customers expect bartenders and servers to provide patrons with quality customer service. Both positions may require certification to serve alcohol. Salary is highly dependent on location and type of establishment.

Driver (Uber, Lyft)

Both Uber and Lyft allow drivers to set their own schedules, making the services ideal for busy students who require flexibility. After passing background and vehicle checks, drivers can work as much or as little as they like. Wages typically start at around $10 an hour, and can quickly add up in a busy college town.

Package Handler

This physically demanding position offers competitive wages and opportunities for rapid advancement in addition to a great workout. Most shipping companies operate in early morning and evening shifts, convenient for student employees to maintain consistent schedules.

Retail Worker

Retail establishments come in every flavor imaginable, from plant nurseries to art supply shops, and you're very likely to find one related to your interests or studies. Retail workers must possess excellent customer service skills and enjoy working with people. Some companies offer insurance benefits, even to part-time employees.

Airport/Airline Worker

Airports must be open around the clock, which means that these facilities are always hiring for a wide range of jobs and shifts. Positions commonly taken by college students include ticket agent, maintenance, concessions worker, and ground attendant. Hourly pay ranges from minimum wage to more than $25, depending on the position.

Tutor

Want to set your own schedule, hourly rates, and terms of service? Tutors for nearly every academic subject are highly sought after on college campuses. Meeting with clients before, between, or after your own classes gives you a chance to earn extra cash without sacrificing schoolwork.

Nanny

A nanny's duties, hours, and compensation vary greatly from client to client, although many are able to set their own rates. Depending on the circumstances, some nannies are able to study and complete schoolwork while caring for their charges.

Freelance Writer/Editor

Strong writing skills are a must for this position. Freelancing allows qualified college students to take on as much or as little work as they want and determine their own schedules. Work volume and pay rates vary among companies, and often depend on prior experience in the field.

Dog Walker

A low-stress position ideal for students with little free time, dog walking can pay between $12-30 an hour, depending on location. Some clients prefer walkers who are bonded and insured.

Transcriptionist

Usually employed in the medical field, transcriptionists use recorded dictation to interpret and transcribe documents, at home or in an office setting. This high-paying position requires knowledge of medical and scientific terminology, which makes it ideal for those seeking degrees in related fields.
Companies That Help Pay for College
There are many well-known companies that will pay for your college through tuition assistance programs, tuition reimbursement, and other employee programs. Some of these companies offer benefits to workers who are current or prospective students, while others help college graduates pay back student loans.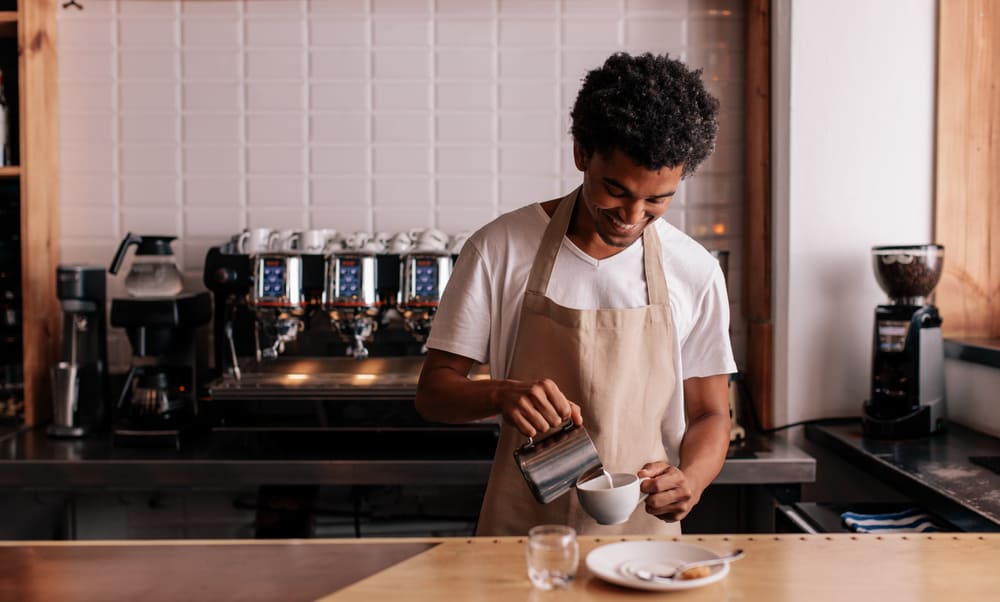 What is tuition reimbursement?
Some larger companies that help with college tuition offer assistance in the form of reimbursement. For example, a company may agree to pay a portion of an employee's annual tuition, provided that the employee meets certain conditions. Such conditions may include pursuing job-related paths of study, remaining with the company for a designated amount of time, and maintaining a certain grade point average.
What Companies Pay for School?
Military Tuition Assistance
Instead of seeking traditional jobs that help pay for college, some prospective students choose to fund their education by joining the military. In addition to the tuition assistance programs below, servicemembers and veterans are often eligible for many scholarships and grants.
Air Force Tuition Assistance: The Air Force pays 100% of educational costs for all active-duty personnel, with the exception of textbooks. Participants must maintain a GPA of at least 2.0 as undergraduates and a minimum GPA of 3.0 as graduate students.
Army Tuition Assistance: Soldiers who have completed Advanced Individual Training and one additional year of service are eligible to receive 130 semester hours of undergraduate credit for free. The United States Army makes aid for graduate courses available after 10 years of service. Students must pay any additional course fees out of pocket.
Navy Tuition Assistance: All active duty personnel, officers, and reservists qualify for free tuition, provided they are on active duty for the length of the course. Officers must agree to remain on active duty for two years after completing their education.
Marines Tuition Assistance: Aid is available to all active duty Marines, including reservists. Students may receive up to $4,500 annually in paid tuition and fees after completing the Marine Corps Institute's personal finance management course. The Marine Corps does not cover the cost of supplies, equipment, and distance learning.
Coast Guard Tuition Assistance: Eligible personnel may receive up to $4,000 annually from the Coast Guard towards the cost of tuition at accredited institutions. Unless the applicant is already a recipient of federal financial aid, funds may not be used to pay for fees, textbooks, or certification programs.
Careers That Offer Student Loan Forgiveness
Some jobs that help pay for college reward students working in certain fields with loan forgiveness and repayment programs. While these programs sometimes offer total debt cancellation or forgiveness in exchange for work, they often have very strict requirements for participation. Applicants may not be in default on their loans, and must complete a period of service in an approved position, through a qualified employer. These jobs may be difficult or less lucrative than other commonly available options, and typically require a significant time commitment. The loan forgiveness programs detailed below are some of the most popular among recent graduates. Before making any decisions, please be sure to check the current status of a program.
Graduates who spend five complete, consecutive years teaching at select elementary or secondary schools can receive forgiveness for up to $17,500 of direct subsidized and unsubsidized loans, as well as federal Stafford loans. Eligible institutions include those on the Annual Directory of Designated Low-Income Schools, schools receiving funds under Title 1 of the Elementary and Secondary Education Act of 1965, and tribal schools. Participants seeking total cancellation of their federal Perkins loans must complete at least one year in a low-income school, a special education program, or a science, math, or foreign language setting.
Once you've made at least 120 qualifying monthly payments on your loans through approved income-based repayment plans while maintaining full-time employment under a qualified employer, you may be eligible for loan forgiveness. Eligible employers include government organizations, tax-exempt and not-for-profit groups, and aid organizations such as AmeriCorps and the Peace Corps. Because 120 payments must be made before applying for loan forgiveness, it will be at least 10 years following the first payment before one qualifies, and the earliest a borrower can apply will be in fall of 2017.
Individuals who have received a DVM from an accredited college of veterinary medicine may be eligible for the VMLRP, which pays up to $25,000 a year towards qualified loans. Funds may not be applied to undergraduate loans. To qualify for VMLRP funding, applicants must serve in a government-designated veterinarian shortage situation for three years. A panel reviews applications and applicants are selected according to professional training and areas of expertise, as well as the most urgent shortage situations. Participants are typically required to relocate for their term of service.
There are numerous loan repayment and forgiveness programs available to law school graduates with federal student loan debt. Attorneys employed by government and nonprofit organizations are eligible to apply for public service loan forgiveness programs after making 120 consecutive monthly payments. Additionally, 24 states offer repayment assistance to civil legal aid attorneys and certain other public interest attorneys. Some civil legal aid groups, firms, and companies that help pay for college also provide their attorneys with loan repayment aid programs, although the terms of these tend to vary between establishments.
This program is open to graduates of college, university, and vocational programs who have completed a minimum of one year of full-time employment in a SEMA (Specialty Equipment Market Association) member company. Eligible individuals must have earned a degree or certification from an accredited institution with a 2.5 GPA upon graduation, and must have a minimum of $2,000 in outstanding student loans. In addition to an employer recommendation, the program requires applicants to submit two 250-word essays describing their prior and potential contributions to the industry. Winners, who are selected on the strength of their responses, receive up to $5,000.
Loan Repayment Programs for Healthcare Professionals
Those employed in the healthcare industry benefit from many service-based loan forgiveness and repayment options. The majority of these programs are limited to professionals with a valid license to practice, and typically require a period of continuous service in an economically disadvantaged area. Others are awarded to researchers in particular fields of medicine.
Volunteer Organizations That Offer Loan Forgiveness
Some volunteer organizations provide loan forgiveness to eligible members. Both of the following groups offer members some form of assistance through repayment plans or forgiveness.
Graduates performing full-time volunteer service through AmeriCorps or VISTA while consistently making student loan payments may receive forgiveness for federal direct loans. Perkins and parent PLUS loans are ineligible, and participants typically consolidate their loans. The organization has strict guidelines for what jobs help pay for college. Social work, military service, and emergency management are among the fields commonly chosen by the program. Participants must maintain a file of pay stubs for ten years to prove their employment with an eligible agency.
There are multiple options and benefits available to Peace Corps volunteers with student loan debt. Depending on the type of loan, participants may be eligible for partial cancellation, income-based repayment plans, or deferment. Additionally, Peace Corps membership qualifies volunteers for the PSLF program. While all PSLF participants are required to make 120 monthly payments before receiving forgiveness, certain qualifying plans allow volunteers to pay $0 during their period of service. Some private lenders also offer student loan relief for Peace Corps volunteers, and members are wise to contact their providers about potential assistance or benefits.